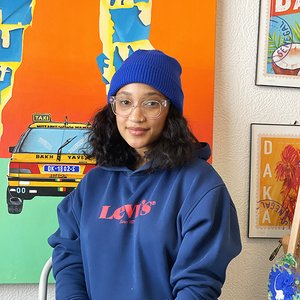 Audrey
d'Erneville
Art Director
United States
Member since 2023
Audrey d'Erneville is a freelance Art Director & Artist. She was born in Paris but made the world her home. Currently living between Dakar and Los Angeles, she also spent some of her childhood in South Africa, and strives to create work that is as rich and colorful as her cultural background.
She has been creating eye catching branding and campaigns for multiple clients including Chanel, Amazon Music, Microsoft, Xbox, and Ford. In late 2021, she assisted Shepard Fairey and his design studio on the new logo and visual identity for the city of Los Angeles.
As a fine Artist she has exhibited in Paris, Lagos and at the '22 Dakar Art Biennale. In early 2023, she had her first solo exhibition in Atlanta.
Contact Audrey.